Eastern Africa Regional Laboratory Network for Foot-and-Mouth Disease (EARLN-FMD) meeting
Addis Ababa, Ethiopia, 12th-14th December 2017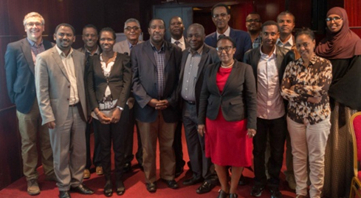 The meeting was arranged in consultation with IGAD and FAO under the auspices of an OIE Reference Laboratory Twinning Project between The FMD World Reference Laboratory (WRLFMD) of the Pirbright Institute, UK and the National Animal Health and Diagnosis Laboratory (NAHDIC) at Sebeta, Ethiopia.
The aims of the meeting were to:
Share information about the FMD situation in the region
Review FMD laboratory diagnostic capacity in East Africa
Decide on immediate training priorities for lab diagnostics
Develop and encourage a more sustainable Network platform for regional FMD lab activities
EARLN-FMD December 2017 Final Report
The presentations given at the meeting are available here: https://b2drop.eudat.eu/s/m5Pfk45AxnFFgQE
File Sharing site
We are using the B2Drop file sharing site (https://b2drop.eudat.eu/) to make avaiable files from the meeting.
It is one of a suite of services offered by EUDAT, all dedicated to the advancement of science and funded by the European Union.